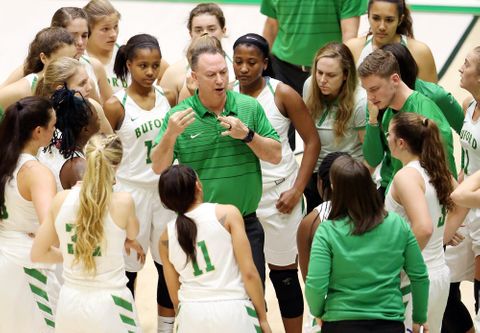 Gene Durden
Head Girls Basketball Coach at Buford High School
"I attended Coach Mueller's post clinic last fall and was super impressed with the techniques, skill development and drill work that he was teaching to post players of all different levels. I bought his DVD "No Moves Needed" to have as a resource in case I missed any of his small teaching points. Coach Mueller does as good of job of teaching post techniques and skills as I have seen in my 30 years of coaching."
Georgia AAAAA State Champions: 2009, 2010, 2011, 2015, 2017, 2018, 2019, 2020
Lilley VanderZee
"Coach Mueller's instruction really increased my confidence. I trained with him before my senior year of high school, shortly before attending Elite Camp at the University of Texas. The staff had been watching me for over a year and definitely noticed the difference in me since I began training with Coach Mueller. I received the Most Outstanding Player award at the end of the camp and was offered a scholarship shortly after. Not only is Coach Mueller an expert coach of post play but he really cares about those he works with. If you have high aspirations as a player, Coach Mueller and his camps can help you reach them." - Lilley VanderZee
Angela Lawson
Former assistant coach at University of Tennessee and Baylor University
"I have coached with and played for some of the most esteemed coaches in the country: Pat Summit, Gary Blair, and Kim Mulkey. As a veteran coach with over twenty years on the sidelines it was rare to have someone capture my attention with something truly unique, but Christian teaches post play in ways I had never seen before. I was so impressed with the improvement in our posts' finishing ability, I began implementing his techniques with our guards. With an extraordinary teaching progression that is simple to understand, Christian had our post players excited about their increased scoring opportunities. As much as we benefited from him coaching our post players, the greatest reward was having him around our team and staff. He's one of those people you just want to spend time with because of his faith and integrity. If you have any opportunity to be coached or trained by Christian Mueller, I'd jump at the chance and make it happen!"
Winner of 1988 National Championship (Player, Louisiana Tech University)
Winner of 1991 National Championship (Asst. Coach, University of Tennessee)
Former assistant coach at Baylor University
Jill Thomas
Head Women's Basketball Coach at Henderson State University
"Christian Mueller is by far one of the best post coaches in the country. When I first coached against him, his posts tore our team up. As soon as I became the head coach at Pfeiffer University, I made him my first hire. He exceeded my expectations. I watched him turn a 5'9 guard into the most dominant post player in our league! The strength of our post game had a large part in our program making the school's first ever appearance in the national tournament in 2013, where we won our first round game. Every program at every level is missing out if you're not utilizing his methods."
2013 Coach of the Year (Conference Carolinas)
Brian Robinson
Chair of High School All-American Selection Committee at WBCA
"Christian is one of the best post play coaches in the business. He is well-prepared to teach and has a very clear and efficient way of explaining concepts to players. Our players have enjoyed his camps and learned a lot from his coaching."
Winner of 9 consecutive state championships in North Carolina (Head Coach, Bishop McGuinness Catholic High School)
Mark Nore
Head Women's Basketball Coach at Black Hills State University
"I've been coaching for 20 years and have always been searching for the "right" way to teach post play. I've always struggled with some of the techniques and had problems with carryover into games. I watched this video and incorporated some the techniques with one of my players. The methods we worked on were proven successful in actual game play. She had success getting easy scoring opportunities immediately. The way Coach Mueller explains the philosophy from the base upward and how to score simply was so good. Awesome video!"
2016 National Tournament, 2nd Round
253-157 record at BHSU
Steve Bruce
Head Women's Basketball Coach at Indiana University South Bend
"Coach Mueller has studied low post play from two of the best teachers in the basketball world, Don Meyer and Mike Roller, and has added his unique and authentic teaching skills to create a system of teaching post play that is highly effective at any level. The results are quick and hard to argue with. During the 2 years Christian worked with our players, he developed three 1st-Team All-Conference post players. Thorough, detailed, and knowledgeable teachers of low post play fundamentals are a small minority. He stands tall in that group!"
Christina Harvey
Assistant Women's Basketball Coach at Gannon University
"Going into college I had never been a true post player so everything was new to me. On a good day I'm 5'10 but Coach Mueller stressed, "It's not the dog in the fight, but the fight in the dog!" He broke everything down and made it so simple to understand. His techniques really get the posts involved offensively and that made it so much more fun to play inside. Even though I routinely faced posts 2-5 inches taller, I had a huge advantage over them because of the techniques he taught. My senior year I was 1st Team All-Conference; averaging nearly 17 points/game while ranking 11th (nationally) in FG%. Most importantly I helped our team get to the national tournament. Coach Mueller had the biggest influence on my college success. He truly took me to another level."
Andi Winney
Former player at Lincoln Memorial University
"Coach Mueller embodies the essence of what coaching is about. He is passionate, enthusiastic, knowledgeable, and invested in not only cultivating extremely successful post play but developing well-rounded, educated, and successful players on and off the court. As one of Coach Mueller's former players I am still ranked 18th nationally in career field goal percentage but more importantly I am now working in my dream profession as a veterinarian; neither of which would have been possible without the instruction I received from Coach Mueller on-and-off the court in overcoming adversity and rising to challenges."
John Zorn
Head Girls Basketball Coach at Loganville High School
"I'm certain other coaches and programs would benefit from this post play instruction because it offers proven methods to put players in the best position to score inside, and shows how to use their bodies the correct way to be effective."
GHSA Elite 8, AAAAA 2015, 2016
Katie Novak
Head Women's Basketball Coach at Sul Ross State University
"One of Coach Mueller's strengths is his ability to simplify. His teaching progression is so logical and his short, simple phrases leave no room for players to think, "I'm not really sure what the coaches are asking of me." Most post players (and coaches) believe success around the basket is about height but positioning, timing, and being more efficient with the basketball can make your 5'10" post unstoppable. I saw the results on our team when I played in college and now I've seen it from the sideline as a coach. I inherited a post player who used to play for Coach Mueller and the rest of our team is shocked at her ability to hold a seal. They complain that guarding her is such a challenge."
Former Asst. Women's Basketball Coach at Our Lady of the Lake University
OLLU held #1 National Ranking (NAIA-1) for seven weeks in 2015-2016 season
2021 American Southwest Conference Coach of the Year
Brandon Begley
Head Girls Basketball Coach at Banks High School (Oregon)
"This DVD made post play so much easier to teach. We've found success with these techniques and have implemented them all the way down to our youth program. Seriously one of the most beneficial coaching DVDs in my library."
2-time Cowapa League Coach-of-the-Year
Kyle Wilson
Head Women's Basketball Coach at Monmouth College
"I was first introduced to Christian Mueller's methods for teaching post play in 2012 and became an instant believer in his approach. Utilizing his techniques has allowed our under-sized post players to be highly successful against bigger and stronger opponents. "No Moves Needed" breaks down Christian's concepts into an easy to implement set of teaching cues and drills that will have your post players enjoying more success than ever before. If you're looking for the next coaching video to add to your library, this is the one!"
Sarah Handlos
Design Manager at Q2ebanking
"Christian coached and trained my middle school age son for a summer basketball league. My son made HUGE strides not only in his basketball skills, but also his self-confidence. Coach Mueller has a natural talent for teaching the fundamentals of basketball in a way that makes it easy for athletes to understand and apply to their everyday training. Not only is Coach Mueller a talented trainer, he is an exceptional role model for young athletes. We are fortunate to have had such an amazing coach and trainer at such a critical time in my son's athletic development. He is definitely a coach that my son looks up to and admires."
What Parent's Are Saying About Pivotal Basketball Camps
"Love It!"
"Coach Mueller's camps are very well run...He teaches the players to be empty cups, ready to receive instruction which is a good lesson not only in basketball but also life ."
"Their overall skill level has increased in a short time."
"We've really enjoyed this [camp], and something we'll do again."